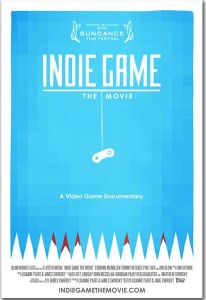 Indie Game: The Movie is leaving Sundance and (hopefully) coming to a theater near you. Their super selective tour is starting out in Santa Cruz, CA; San Francisco, CA; Asheville, NC; Seattle, WA; Portland, OR; Chicago, IL; and Cambridge, MA. If you're lucky enough to live in one of those cities, grab your tickets here.
What is Indie Game: The Movie? I'm glad you asked. It's a documentary about four game developers – Jonathan Blow, Phil Fish, Edmund McMillen, and Tommy Refenes – and their trials and tribulations in the creation, release, and speculation of their independent video games. "Four developers, three games, and one ultimate goal— to express oneself through a video game," is how it has been described by Sundance.
This movie looks beautiful, and I can't wait to see it. I've got my fingers crossed that it will come to Philadelphia, but if not, I'm definitely picking up the DVD – and you should too.