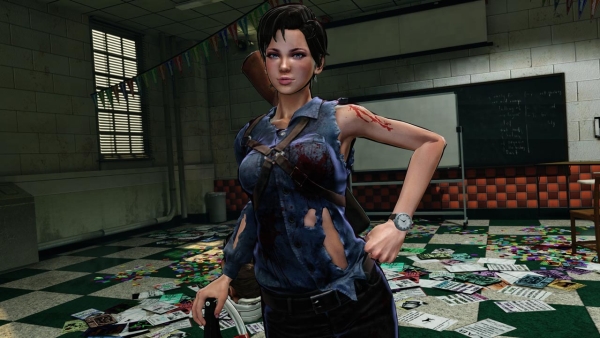 As if I wasn't already, like, super-stoked for Lollipop Chainsaw…
The next game to emerge from the twisted mind of Suda 51 stars Juliet Starling, a bubbly teenager who has to hack and slash her way through the school day after a nerdy classmate raised an army of zombies. But if you thought the cheerleader uniform was too exploitative, then WB Games has a more appropriate zombie-killing outfit for you: Ash from the Evil Dead trilogy (or rather, Juliet dressed in Ash's clothes).
That's what you'll get if you pre-order Lollipop Chainsaw from GameStop (along with a Jimmy Urine, lead singer of Mindless Self Indulgence, skin). If you'd prefer to pre-purchase the game from Amazon, you'll receive a Betty Page-styled "Rockabilly" outfit while Best Buy is giving out "Foxy Funk" and "Goth Girl" outfits. But for some reason, the Goth Girl skin is a pink leotard with fairy wings (I don't get it either).
Juliet will model all of the skins for you in a video and image gallery found after the break.