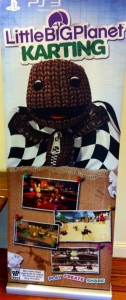 Sackboy is about to take a step that seems very natural: directly into a kart to do some racing.
Sony has officially confirmed LittleBigPlanet Karting via their Twitter account. This announcement comes in the wake of the recent Destination PlayStation event. PlayStation LifeStyle also mentioned that the game would have a "Move compatible wheel" and be "3D capable."
This is awesome news, especially considering the only kart racer on the PlayStation 3 is the tepid ModNation Racers. Could this be the start of an actual competitor to Mario Kart?