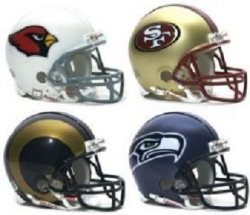 Are you ready for some football? How about a long and drawn out fan vote to decide who will appear on the cover of Madden NFL 13? Well, EA Sports has you covered on both.
Every day this week, the Madden-maker will continue to reveal each division's nominees for the game's cover. The 64-player tournament will initially include two players from each team. Beginning March 7, fans can head over to the ESPN SportsNation Facebook Page to decide who will represent each team in the final 32-player bracket.
Today's nominees come from the NFC West:
Arizona Cardinals
Larry Fitzgerald or Patrick Peterson
San Francisco 49ers
Vernon Davis or Patrick Willis
Seattle Seahawks
Marshawn Lynch or Earl Thomas
St. Louis Rams
Brandon Lloyd or Chris Long
Now we're getting somewhere. Fitzgerald is a former Madden coverboy and Patrick Willis is one of the best defensive players in the league. But are either of them deserving for the cover of Madden NFL 13? They've got to come out on top of the play-in round first.