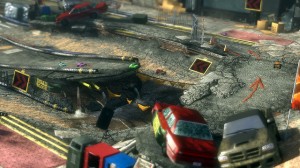 Get ready for some big MotorStorm fun in a tiny package! MotorStorm RC will be coming to the PSN and the Vita on March 6 for just $9.99, says the PlayStation Blog.
According to Game Director Paul Rustchynsky, the game "started out as a simple concept we were playing around with during lunch times, a pet project to challenge each other to set the fastest times, originally using post-its on the wall as a low-fi leaderboard!"
The game looks like an awful lot of teeny fun, and with the ability to play it on both your PS3 and take it on the go on your Vita, there's a lot of potential here for replayability – or constant playability.
Be sure to pick the game up on March 6, and "check out the extremely rare vehicles while you're [in the PlayStation Store]… if that sort of thing takes your fancy."