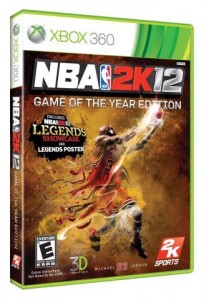 2K has announced the NBA 2K12 Game of the Year Edition, which will be sold exclusively at Best Buy. This edition will include the game, the Legend's Showcase add-on content, and a commemorative poster of Michael Jordan, Magic Johnson, and Larry Bird.
Jason Argent, vice president of marketing for 2K Sports, said, "We're always committed to giving our fans great value. This is a great opportunity to not only get your hands on NBA 2K12, but the terrific Legend's Showcase content as well. Gamers and basketball fans alike will love this package."
NBA 2K12 Game of the Year Edition will be out on March 11 for PS3 and Xbox 360 and will cost $49.99.