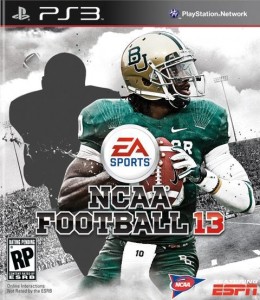 Robert Griffin III had a good weekend.
The quarterback from Baylor put on an amazing show at this weekend's NFL Scouting Combine and, this morning, EA Sports announced he'll be the cover athlete for NCAA Football 13.
But unlike at the Combine, Griffin will have to share the spotlight when NCAA Football 13 is released in July for the PS3 and Xbox 360 as EA also announced that a fan vote for a second cover athlete will begin on March 12. Voting will take place on the NCAA Football Facebook Page where fans will be able to select one of eight former Heisman Trophy winners to accompany Griffin:
Marcus Allen (RB – University of Southern California)
Doug Flutie (QB – Boston College)
Eddie George (RB – Ohio State University)
Desmond Howard (WR – University of Michigan)
Barry Sanders (RB – Oklahoma State University)
Herschel Walker (RB – University of Georgia)
Charlie Ward (QB – Florida State University)
Andre Ware (QB – University of Houston)
My money's on Sanders, but I'd love to see Flutie win.