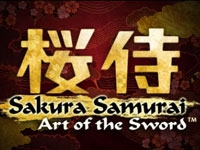 Welcome one and all to the latest edition of the weekly Nintendo Download. There's swordfighting, zombie fighting, and the math-related adventures of a thief named Carmen Sandiego.
So you have to ask yourself, do any of these games interest you? Well, do they?
Sakura Samurai: Art of the Sword (3DS eShop) – Travel a world rife with beauty and danger to rescue the legendary Princess Cherry Blossom. Her kidnapper has placed dozens of blade-wielding henchmen in your path. (For Nintendo 3DS™)
GO Series: Undead Storm (DSiWare) – Six months after a mysterious meteorite strike, the undead have awoken and are taking over the city. What lies behind this zombie epidemic? Only you can uncover the truth.
Carmen Sandiego Adventures in Math: The Great Gateway Grab (WiiWare) – Breaking news from Mumbai, India: The Gateway of India was stolen a few hours ago. It looks like an open and shut case of V.I.L.E villainy. Carmen Sandiego is back and only you can foil her V.I.L.E plans. Travel the globe, solve brain-twisting math puzzles, and catch the villain behind the Great Gateway Grab.