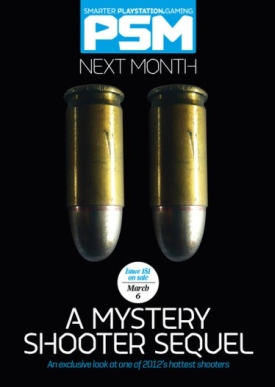 UK gaming mag PSM3 is promising a big reveal in its March 2012 issue.
The image to your right appears on the "Next Issue" page of the current issue of PSM3. Two bullets appear alongside the words "A Mystery Shooter Sequel" and "An exclusive look at one of 2012's hottest shooters." We're likely looking at a game with a two in the title and, obviously, one that's being released this year.
Sister publication CVG has helpfully suggested that the game could be Call of Duty: Black Ops 2 or Bulletstorm 2, so I think it's safe to dismiss both of those options. However, I think an EA-published title is the most likely candidate.
Since it's release in 2010, EA has continually laid the groundwork for Medal of Honor 2, even going so far as to include a teaser with copies of Battlefield 3. I'd be very surprised if this reveal is referring to anything else.
However, if you're interested in longshots, what about Black 2? EA executives have always said they'd like to make a sequel someday and the game did rely heavily on the bullet motif. Just look at the cover.
But we'll find out for sure on March 6.