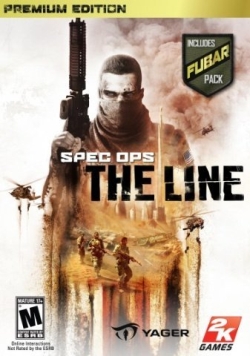 After several delays, 2K Games is ready to announced the release date of the Yager-developed Spec Ops: The Line. The PC, PS3, and Xbox 360 shooter will be available in stores on June 26.
In addition to the release date news, 2K Games has revealed that players who pre-order Spec Ops: The Line will be upgraded to the Premium Edition. The Premium Edition will include the FUBAR Pack, which stands for FUn Beyond All Recognization…
Wait, I've just been told that FUBAR stands for something else… Really? It stands for what? Oh. I see. Moving on…
The Premium Edition and FUBAR Pack feature a variety of multiplayer bonuses including:
AK-47 unlocked at Rank One
Officer Class unlocked at Rank One
Exclusive accessories allowing players to customize their characters with unique and visually distinctive items.
Double XP during the first week of release
Hit the jump to view a trailer featuring the contents of the FUBAR Pack. You'll have a FUBARing great time!