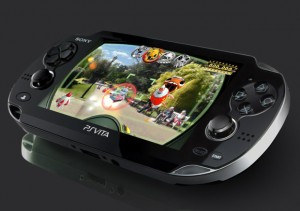 With the Vita First Edition Bundle now available in stores, Sony has flooded the PlayStation Network with games and content for the handheld system.
A total of sixteen Vita games are now available for your playing pleasure including Uncharted: Golden Abyss, Lumines: Elecronic Symphony, Wipeout 2048, and many, many more. PlayStation Store exlcusives Escape Plan and Super Stardust Delta are also now available to download.
But don't think Sony has forgotten the PS3 (or PSP) just because the Vita is vying for your affection. A Move-compatible version of The House of The Dead III and Worms: Ultimate Mayhem can be had for your PS3 while Hakuoki: Demon of The Fleeting Blossom is available for the PSP.
And let's not forget that demos for Mass Effect 3 and Binary Domain can be downloaded today as well.
Wow. You can check out all the games available in this week's update after the break and for a full list of all of this week's new game add-ons, I refer you to the PlayStation Blog.
PS Vita Games
Ultimate Marvel Vs Capcom 3 ($39.99)
The fight between the Marvel and Capcom characters has been taken to a new level! Marvel vs. Capcom 3 has evolved into the ultimate experience! New playable characters include popular Marvel comic characters such as Ghost Rider and returning characters.
Escape Plan ($14.99)
Escape Plan takes advantage of the PlayStation Vita system's multi-touch display, rear touch panel and motion sensor, putting the fate of Lil & Laarg in the palm of your hand.
Blazblue: Continuum Shift Extend ($34.99)
BlazBlue: Continuum Shift EXTEND is the definitive version of the Continuum Shift series, which includes character balance tweaks, a new character, Relius Clover, story modes for all previous three DLC characters: Platinum, Makoto, Valkenhayn, new modes, and improved online multiplayer!
F1 2011 ($39.99)
Compete on the go with F1 2011! Featuring all the official cars, stars and circuits from FORMULA ONE, go for motorsport's ultimate prize across a full season, enter individual GRAND PRIX races, or get a quick fix with Challenge Mode.
FIFA Soccer ($39.99)
EA Sports FIFA Soccer on PlayStation Vita handheld entertainment system delivers the first true next generation soccer experience in the palm of your hands. Enjoy the award-winning FIFA console gameplay, including head-to-head online gameplay, custom online leagues and HD graphics.
Virtua Tennis 4: World Tour Edition ($39.99)
Virtua Tennis 4: World Tour Edition on the PlayStation Vita system offers everything gamers expect from a HD console game, plus some exciting new features using the unique PS Vita capabilities with touch panel, gyroscope, camera and 3G/Wi-Fi features.
Asphalt: Injection ($26.99)
Asphalt, the best arcade racing series on portable devices now comes to the PlayStation Vita handheld entertainment system. Master 10 different types of events to rule a full-featured Career mode with more than 100 races. Discover the new social features and share your best performances with your friends.
Dungeon Hunter: Alliance ($35.99)
Dungeon Hunter: Alliance is the first action RPG game for the PlayStation Vita handheld entertainment system that immerses you in a unique online multiplayer experience.
Lumines: Elecronic Symphony ($35.99)
The king of music-puzzle games returns with its first, all-new installment. Lumines Electronic Symphony brings together addictive puzzle action, a new 3D graphics engine, and significant names in electronic music history.
Michael Jackson: The Experience HD ($35.99)
Experience the excitement and the magic of Michael Jackson's iconic music videos and short films in the palm of your hands in spectacular high definition graphics and sound.
Rayman Origins ($35.99)
Meet The New Crazy! Rayman Origins is a comic adventures set in a lush, 2D world over 60 levels teeming with unexpected secrets and outlandish enemies.
Super Stardust Delta ($9.99)
The Super Stardust franchise blasts its way into your hands with its latest iteration: Super Stardust delta. With brand-new features made specifically for PlayStation Vita, players continue to destroy everything in their sight.
Uncharted: Golden Abyss ($44.99)
Uncover the dark secret behind the 400-year-old massacre of a Spanish expedition as Nathan Drake races into Central America in search of a legendary lost city
Hot Shots Golf: World Invitational ($35.99)
Golf With Your Friends! The over-the-top golf franchise is back using a wide array of PS Vita system features including front and rear touch for shot preparation, 3G asynchronous gameplay and online tournaments.
Wipeout 2048 ($35.99)
Experience the thrill and speed of antigravity racing with PS Vita system's enhanced controls, including motion active tilt and touch interface. Wipeout 2048 also supports Cross Play between PS Vita and PS3 players.
ModNation Racers: Road Trip ($26.99)
Welcome to the never-ending season of ModNation kart racing, where competitive racing and community creativity collide. Whether you race for the fastest time, customize your own karts or tracks, or you discover new courses online – ModNation Racers gives you everything you need!
PSN Games
The House of The Dead III ($6.99)
Worms: Ultimate Mayhem ($14.99)
Worms: Ultimate Mayhem is the definitive 3D Worms game! Load your weapons and experience a new dimension in destructive turn-based cartoon action!
PS3 Full Games
Grand Theft Auto IV ($19.99)
What does the American Dream mean today? For Niko Bellic, fresh off the boat from Europe, it is the hope he can escape his past.
Downloadable PSP Games
Hakuoki: Demon of The Fleeting Blossom ($24.99)