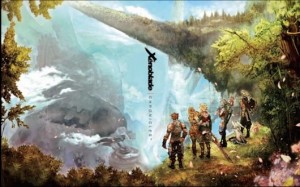 Operation Rainfall supporters, take a bow.
Nintendo has announced that Xenoblade Chronicles will be released exclusively through GameStop on April 6. In addition to the release date, Nintendo has revealed that the game will be packaged in the beautiful (and fan-chosen) wraparound cover to your left. Click on the cover to get a larger look at it.
But that's not all! Nintendo also announced that XSEED has picked up the North American publishing rights to The Last Story. No release date was announced, but it'll be available this year, sometime after the release of Xenoblade Chronicles.
"Together, these two games level up the excitement for RPG fans in America," said Nintendo of America President Reggie Fils-Aime. "Whether roaming the vast landscape of Xenoblade Chronicles or choosing crossbows to battle with or against companions in The Last Story, gamers will recognize these titles as benchmarks for the genre."
Is Pandora's Tower next? I'd bet good money we'll see it sometime before the end of 2012.