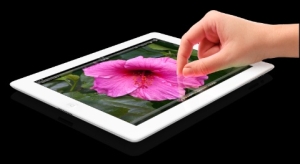 Ladies and gentlemen, allow me to introduce you to the iPad 3.
The latest revision of Apple's tablet includes a new processor, a new camera, 4G LTE support, and a new Dictation app. It's sleek and sweet and will only set you back $499 (for the 16GB Wi-Fi version), $599 (32GB Wi-Fi version), or $699 (64GB Wi-Fi version).
OK, maybe "only" is the wrong word (and the versions with 4G support are even pricier). But the new feature set is incredibly nice:
A5X chip with quad-core graphics
5 megapixel iSight camera with advanced optics
Retina display delivers four times the number of pixels of iPad 2
Dictation app
4G LTE support
Hit the jump for more details on all of these features. Everyone else, commence drooling, you'll be able to purchase one on Friday, March 16 (that's next Friday).
iPad 3 Features
The new iPad's Retina display delivers four times the number of pixels of iPad 2, so dense that the human eye is unable to distinguish individual pixels when held at a normal distance, making web pages, text, images and video look incredibly sharp and realistic. The 3.1 million pixels in the Retina display are more than one million more pixels than an HD TV, and with 44 percent increased color saturation the new iPad displays colors that are unbelievably richer, deeper and more vivid. Movies are now capable of playing at full 1080p HD-resolution, delivering an incomparable viewing experience on a mobile device.
The powerful new A5X chip with quad-core graphics was specifically designed by Apple to deliver a fast, responsive user experience while supporting the incredible Retina display. With double the graphics performance of the A5 chip, the A5X provides a superb balance between performance and power efficiency so users can enjoy all the benefits of the stunning new display while experiencing a smooth Multi-Touch interface, immersive gameplay, incredible visual depth and all-day battery life that iPad is known for delivering.
The 5 megapixel iSight camera features advanced optics for taking stunning pictures and recording full HD video. Backside illumination allows you to take great photos in low-light conditions and a new video image stabilization feature removes the bumps and shakes typically seen when filming with a hand-held device. Images can be enjoyed on the large Retina display, then edited, enhanced and easily shared with friends and family using the built-in Photos app on iPad.
iPad Wi-Fi + 4G with built-in next generation 4G LTE has the most comprehensive support for fast networks worldwide including HSPA+ and DC-HSDPA, and now both CDMA and GSM iPad users have the ability to easily roam internationally. The world-ready iPad delivers blazing download and upload speeds so web pages load incredibly quickly and email with large attachments can be sent and received easily. Personal Hotspot can be used to share the fast network connection on your iPad with up to 5 other devices using Wi-Fi, Bluetooth or USB.
The new iPad also supports dictation, another amazing way to get things done just using your voice. Instead of typing, tap the microphone icon on the keyboard, then say what you want to say and the new iPad listens. Tap done, and iPad converts your words into text. You can use dictation to write messages, take notes, search the web and more. Dictation also works with third-party apps, so you can update your Facebook status, tweet, or write Instagram captions.