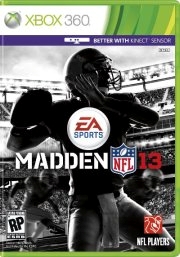 The votes from the "play-in round" have been tabulated and the 32-man Madden NFL 13 cover bracket is now live at ESPN's SportsNation site.
Carolina Panthers quarterback Cam Newton and Green Bay Packers quarterback Aaron Rodgers were seeded by EA Sports in the number one slots. New England Patriots Tight End Rob Gronkowski and Victor Cruz of the New York Giants are nipping at their heels as the number twos.
By scheduling the "play-in round" before the beginning of free agency, several teams won't be represented in the final bracket while others have multiple players in the tournament. Brandon Lloyd was selected as the player from the St. Louis Rams, but he'll don a Patriots jersey this Fall and Tim Tebow was traded to the New York Jets just minutes before the bracket was unveiled.
You can check out the complete bracket after the break and remember to vote in Round One of the Madden NFL 13 Cover Vote, which runs from today until March 28.
Left Bracket
Cam Newton (#1) vs LeGarrette Blount (#16)
Antonio Gates (#8) vs Dwight Freeney (#9)
LeSean McCoy (#5) vs Reggie Bush (#12)
Larry Fitzgerald (#4) vs Troy Polamalu (#13)
Matt Forte (#6) vs Patrick Willis (#11)
Maurice Jones-Drew (#3) vs Sebastian Janikowski (#14)
Darrelle Revis (#7) vs Stevie Johnson (#10)
Victor Cruz (#2) vs Brian Orakpo (#15)
Right Bracket
Aaron Rodgers (#1) vs Joe Haden (#16)
Marshawn Lynch (#8) vs Chris Johnson (#9)
Ray Rice (#5) vs A.J. Green (#12)
Drew Brees (#4) vs Matt Ryan (#13)
Calvin Johnson (#6) vs Dwayne Bowe (#11)
Arian Foster (#3) vs Tim Tebow (#14)
Jared Allen (#7) vs DeMarcus Ware (#10)
Rob Gronkowski (#2) vs Brandon Lloyd (#15)