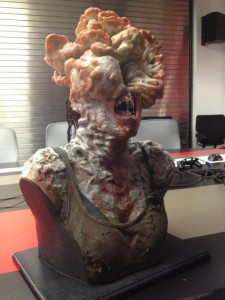 Naughty Dog Co-President Evan Wells posted the montrosity on the left of your screen to his Twitter feed yesterday.
Mr. or Ms. Exploding Head is what "the infected" will look like in the developer's next game, The Last of Us. Up until now, the only antagonists we've seen for Joel and Ellie have been humans living outside the quarantine zones. But these abominations will be roaming the ruined lands of the USA as well, and it looks like "shoot 'em in the head" won't be an option.
I don't think they have any plans to give the bust away to one of their fans, but we can dream can't we?