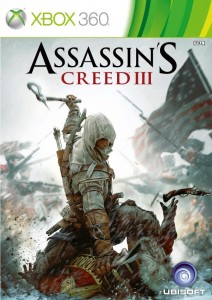 Ubisoft released the boxart for Assassin's Creed III today and, as rumored, the franchise will be jumping forward to Revolutionary War times.
While we don't know which of Desmond's ancestors this is, the white robe shows he's definitely an assassin. And the tomahawk and quiver show that he's likely part Native American (or he was captured as a child like Mary Jemison). But Native American or not, that Redcoat's brain is definitely about to get very drafty.
Assassin's Creed III will be released for the PC, PS3, and Xbox 360 on October 30. More details will be revealed in a few days, probably during the Game Developers Conference.