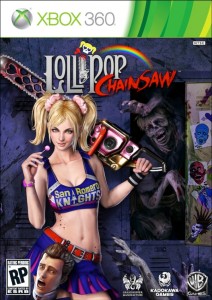 Writer/Consultant James Gunn (Dawn of the Dead, Slither) has assembled an impressive voice cast for Lollipop Chainsaw's western release. In addition to pulling in some familiar names with geeky cred, Gunn even called in a familial favor for the game's villainous center.
That's right, in a move that will be sure to get fans of "The Gilmore Girls" playing Lollipop Chainsaw, James Gunn has hired his brother, Sean Gunn (who starred in GG as Kurt), to play Swan the necromancer (called it). His "Gilmore Girls" co-star, Gregg Henry, is also along for the ride as Juliet's Father.
So who'll be playing Juliet Starling, the blonde and perky cheerleader that's trying to stop this zombie uprising? That'll be Tara Strong, who most recently provided the voice of Harley Quinn in Batman: Arkham City.
Rounding out the cast will be:
Linda Cardelleni (star of "Freaks and Geeks" and Velma from the Scooby-Doo movies) as a fellow demonhunter, Cordelia.
will play her sister Rosalind.
Michael Rosenbaum (Lex from "Smallville") will play Juliet's boyfriend Nick, a disembodied head.
Jimmy Urine, from the band Mindless Self Indulgence, will voice the "deranged" Zed.
Finally, Shawnee Smith (of the Saw films and "The Stand") and Michael Rooker (who starred in Slither) will voice two additional characters.
Lollipop Chainsaw will be available for the PS3 and Xbox 360 on June 12.