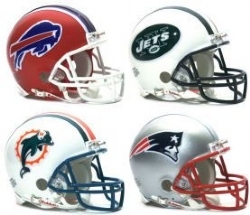 Are you ready for some football? How about a long and drawn out fan vote to decide who will appear on the cover of Madden NFL 13? Well, EA Sports has you covered on both.
Every day this week, the Madden-maker will continue to reveal each division's nominees for the game's cover. The 64-player tournament will initially include two players from each team. Beginning March 7, fans can head over to the ESPN SportsNation Facebook Page to decide who will represent each team in the final 32-player bracket.
Today's nominees come from the AFC East:
Buffalo Bills
Ryan Fitzpatrick or Stevie Johnson
Miami Dolphins
Reggie Bush or Brandon Marshall
New England Patriots
Rob Gronkowski or Wes Welker
New York Jets
Darrelle Revis or Mark Sanchez
A Tight End has never been chosen as the cover athlete for any Madden NFL release. Even though we're less than halfway through the nominees, I think New England's Rob Gronkowski has a very good chance of breaking down that barrier. Statistically, there was no better receiver in the NFL in 2011.
Oh, but uh, I guess Wes Welker is pretty good too. So it's probably too early to make that kind of prediction.