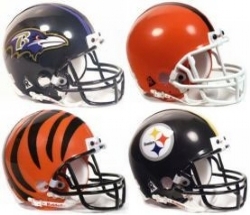 Are you ready for some football? How about a long and drawn out fan vote to decide who will appear on the cover of Madden NFL 13? Well, EA Sports has you covered on both.
With just two to go, the Madden-maker has continued to reveal each division's nominees for the game's cover. The 64-player tournament will initially include two players from each team. Beginning March 7, fans can head over to the ESPN SportsNation Facebook Page to decide who will represent each team in the final 32-player bracket.
Today's nominees come from the AFC North:
Baltimore Ravens
Ray Rice or Terrell Suggs
Cincinnati Bengals
Andy Dalton or A.J. Green
Cleveland Browns
Joe Haden or Joe Thomas
Pittsburgh Steelers
Troy Polamalu or Ben Roethlisberger
I don't think anyone's surprised, but Peyton Hillis isn't in the running for the Madden NFL 13 cover. The Madden Curse doesn't statistically exist, but it's hard to argue that anyone has ever been hit by it as hard as Hillis.
But among the actual AFC North nominees, I think Baltimore's Ray Rice has the best shot at the cover. The Raven running back ran for 12 touchdowns, caught three more, and even threw one himself in 2011. That's impressive.