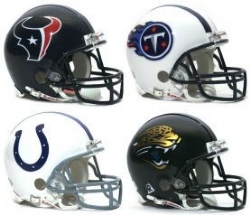 Are you ready for some football? How about a long and drawn out fan vote to decide who will appear on the cover of Madden NFL 13? Well, EA Sports has you covered on both.
Every day this week, the Madden-maker will continue to reveal each division's nominees for the game's cover. The 64-player tournament will initially include two players from each team. Beginning March 7, fans can head over to the ESPN SportsNation Facebook Page to decide who will represent each team in the final 32-player bracket.
Today's nominees come from the AFC South:
Houston Texans
Arian Foster or Andre Johnson
Indianapolis Colts
Dwight Freeney or Robert Mathis
Jacksonville Jaguars
Blaine Gabbert or Maurice Jones-Drew
Tennessee Titans
Chris Johnson or Jake Locker
Andre Johnson didn't have a great 2011 (in fact, he spent more time injured then he did on the field), but the Texans play-in matchup is certainly the most interesting so far. But out of this eight, it's hard to argue, except for Arian Foster, that any of them are deserving of the cover of Madden NFL 13.