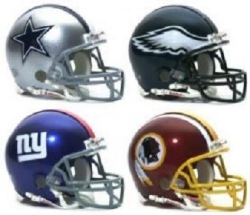 Are you ready for some football? How about a long and drawn out fan vote to decide who will appear on the cover of Madden NFL 13? Well, EA Sports has you covered on both.
Every day this week, the Madden-maker will continue to reveal each division's nominees for the game's cover. The 64-player tournament will initially include two players from each team. Beginning March 7, fans can head over to the ESPN SportsNation Facebook Page to decide who will represent each team in the final 32-player bracket.
Today's nominees come from the NFC East:
Dallas Cowboys
DeMarcus Ware or Jason Witten
New York Giants
Victor Cruz or Jason Pierre-Paul
Philadelphia Eagles
LeSean McCoy or Michael Vick
Washington Redskins
Ryan Kerrigan or Brian Orakpo
With their Super Bowl victory, the G-Men (Victor Cruz and Jason Pierre-Paul) obviously have a leg-up in the Madden NFL 13 cover competition. Especially because both players delivered big performances during the playoffs. But don't count out LeSean McCoy or Michael Vick. Vick is a former Madden coverboy and McCoy is one of the best running backs in the league.
Of course, even with Vick's on-the-field credentials, many people have other reasons not to vote for him.