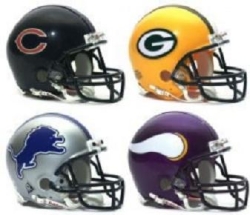 Are you ready for some football? How about a long and drawn out fan vote to decide who will appear on the cover of Madden NFL 13? Well, EA Sports has you covered on both.
And we've reached the end. With this batch of nominees, the Madden-maker has revealed every division's nominees for the game's cover. The 64-player tournament will initially include two players from each team. Beginning March 7, fans can head over to the ESPN SportsNation Facebook Page to decide who will represent each team in the final 32-player bracket.
Today's nominees come from the NFC North:
Chicago Bears
Jay Cutler or Matt Forte
Detroit Lions
Calvin Johnson or Matthew Stafford
Green Bay Packers
Aaron Rodgers or Clay Matthews
Minnesota Vikings
Jared Allen or Percy Harvin
It looks like EA saved the best for last as the NFC North nominees may be, on the average, the best eight chosen. Especially when that list includes players like Aaron Rodgers (one of the best quarterbacks in the league), Calvin Johnson (one of the best wide receivers in the league), and Matt Forte (one of the best running backs in the league).
So that's it. We're done. Get ready to vote on the play-in matches tomorrow and be sure to review all the other nominees. The Madden Curse is hungry!