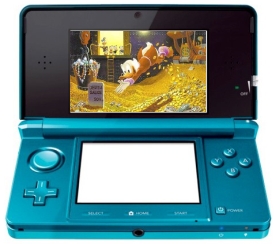 As production of the 3DS nears the one year mark in America, Nintendo was proud to announce that the handheld has sold 4.5 million units in the US. A side-by-side comparison with the launch of the DS shows that the 3DS had stronger numbers in every category, including total units sold (more than double the DS numbers, actually), software sales, and overall sales.
Nintendo of America President Reggie Fils-Aime seemed to attribute this to the amount of software available and the addition of Netflix and 3D video services, saying: "With a massive lineup of first- and third-party games and more on the way, a budding library of entertainment options and an engaged and growing installed base, Nintendo 3DS has an incredibly bright future."
The numbers certainly seem to support this theory. It took only 8 months for the 3DS to surpass first year sales of the DS, and games like Super Mario 3D Land and Mario Kart 7 were the fastest-selling games in their franchise.
This trend looks like it will continue into 2012, with good third party support from Capcom, Sega, and Konami, and a new installment in the popular Kid Icarus series.