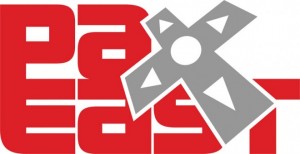 Attention gaming nerds! The schedule is up for PAX East 2012. Get thyself over to the site and check out what Tycho and Gabe, errr, I mean Jerry and Mike, have to offer.
What's on your agenda? As always, I've got a slot saved in my schedule for the Rooster Teeth panel, and I'd like to make it to at least one of the Penny Arcade Q&A sessions. And I can't wait to see the Naughty Dogs at "An Uncharted 3 Story: The Chateau, Creation to Ashes." And I'm going to weep a bit when I get to "Penny Arcade's New Rain Slick Precipice Game." And that's all just Friday.
PAX East 2012 will be held in Boston from April 6-8.