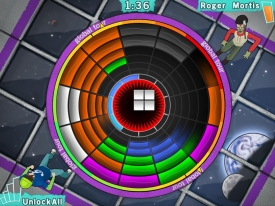 And your mom told you playing games would never do any good…
Instead of wasting all your time camping Aeonaxx, why don't you do something nice for somebody else? Don't worry, you don't have to leave the comfort of your computer chair. Just head over to Greater Good Games, and check out their debut title, Break Blocks.
Break Blocks is an action puzzler where you place blocks on a circular dance floor in time with the beat. Group primary colors, and connect them using secondary colors as "bridges" to clear more blocks and out "break" your enemies!
Break Blocks is available on PC, and uses a pay-what-you-want model (minimum $1.00). Greater Good Games will donate 20% of the proceeds to the international humanitarian organization Doctors without Borders.