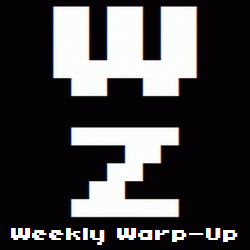 No, that's not a typo. Welcome to the Weekly Warp-Up, your weekly wrap-up of the biggest and the best articles posted at Warp Zoned this week…
Mass Effect 3 was a major topic of conversation again this week as fan and fanboy alike have turned out in droves to debate the merits of Shepard's final voyage. First came the news that a Mass Effect 3 player filed a complaint with the Federal Trade Commission about the game's "terrible" ending. Then came the news that BioWare was actually considering a new ending, which the company's co-founder confirmed a few days later. So congratulations, Mass Effect 3 is getting a new ending because a small group of people complained loudly enough.
If you're uninterested in the meta-discussion of the game's ending, but still love Mass Effect 3, then check out our look at the religious undertones of the series as a whole in The Cross and The Controller: Mass Effect's Picture of Faith.
And speaking of religious experiences… the "Art of Video Games" exhibit opened last weekend at the Smithsonian American Art Museum, and we were there to take it all in including the Pioneers Panel, Hideo Kojima's panel, thatgamecompany's meet and greet, and the exhibit itself.
And speaking of game developers, we also reviewed the excellent book Gamers At Work, a series of interviews with some of the biggest names in the development scene, this week.
And speaking of this week, you can read more about it after the jump.
The Week in New Games…
Amazing Paperboy Delivers…
And Finally…
Two Congressmen walk into a bar and yell "All video games make kids violent!" The bartender says, why don't you make a law? So they tried. And no, that's not a joke, but something that actually happened this week.