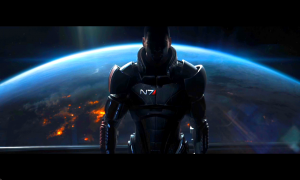 The fan reaction to the Mass Effect 3 ending is quickly becoming the video game news event of the Spring. While many were happy (or, at least, satisfied) with how BioWare brought their sci-fi epic to a close, many others were not. And made their displeasure heard for weeks after the game's launch. BioWare said they were listening to all that fan feedback, and today, they've announced a free DLC pack that just might appease the masses.
Known as the "Extended Cut," the DLC will be made available to download this Summer at no charge for all PC, PS3, and Xbox 360 players. But BioWare went to great lengths to point out that the Extended Cut won't change the current ending to Mass Effect 3. Instead, the DLC will expand it by inserting "additional cinematic sequences and epilogue scenes" into the game. BioWare promises that these new scenes will "provide deeper insights into how [your] personal journey concludes."
Casey Hudson, Executive Producer of the Mass Effect series, reiterated this point by saying, "We have reprioritized our post-launch development efforts to provide the fans who want more closure with even more context and clarity to the ending of the game, in a way that will feel more personalized for each player."
If you have more questions, BioWare has posted an Extended Cut FAQ on their website… or you can ask personally bring your questions to the team at this weekend's PAX East expo.