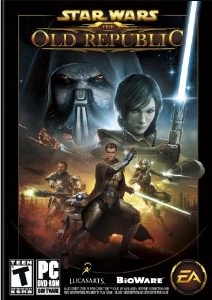 BioWare today announced the release of "Game Update 1.2: Legacy," which is a massive update for Star Wars: The Old Republic that will deliver new content and the next evolution of the Legacy System alongside community requested enhancements like custom user interfaces and guild banks.
The new Legacy System will give players the ability to join all of their characters in a family tree that gives each a "bond." This bond will grant bonus abilities and new character customization options to each character in the tree. They can also unlock new races for new characters, and convenience items for ships including a Galactic Trade Network terminal.
There will also be new high-level content for both experienced and novice players, including a Flashpoint on Ord Mantell called Lost Island, an Operation in a new zone on Denova called Explosive Conflict, and Warzone: Novare Coast.
But that's not all! To reward current players for their support, BioWare will be offering some in-game rewards, including a Tauntaun Ram pet for anyone with an active account created before or on April 21, 30 days of free game time for players who reach level 50 by April 12, and up to seven days of free game play for former players with inactive accounts starting April 13.
For more information on the update, head over to the official Star Wars: The Old Republic website for patch notes and a more in-depth discussion of the update with the SWTOR developers.