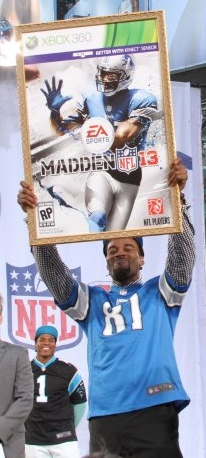 The votes have been counted and we have a winner… Calvin Johnson, wide receiver for the Detroit Lions, will be the Madden NFL 13 cover athlete.
Johnson, also known as "Megatron" to friends, fans, and well wishers, beat out Carolina Panthers quarterback Cam Newton in the final round. A total of 651,790 votes were cast and Johnson came out on top with 52%, an almost razor-thin margin of victory. Nearly 20 million votes were cast throughout the entire tournament.
Johnson is the first player from the Lions to appear on the Madden cover since a shadowy image of Barry Sanders was inserted behind John Madden himself for Madden NFL 2000. Sanders retirement a month earlier and subsequent appearance on the cover is cited by some as the impetus of the "Madden Curse."
Will Calvin Johnson be able to avoid the curse? Everybody hopes so, but after years of trying, Starscream did eventually manage to kill Megatron. So you never know.