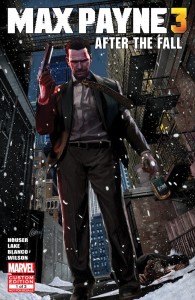 Max Payne is drunk and he just shot somebody and left them to die in the street. Welcome back to Max's world and welcome to the cover of "Max Payne 3: After the Fall," a three-issue limited series comic created by Marvel and Rockstar Games.
Issue #1 of "After the Fall" is written by Rockstar's Dan Houser (he also wrote the story for the game) and Remedy's Sam Lake. The cover art was created by Greg Horn with pencils and inks by Fernando Blanco. The series will "[feature] characters from all three Max Payne games as the series weaves together events from various points in Max's life."
"After the Fall" will be available as a free digital download through the Rockstar Newswire and on the Max Payne 3 official site this Thursday, May 3. A "limited run" of print copies will be also available later in the month.
Max Payne 3 will be released for the PC, PS3, and Xbox 360 on May 15.