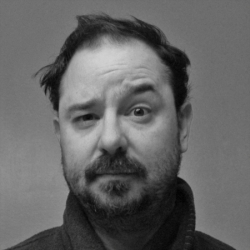 Your hero and mine, John Scalzi, has revealed that he's working on his first video game with mobile developer Industrial Toys.
Details are still scant, but Scalzi is the world-renowned author the Old Man's War series, Fuzzy Nation, The God Engines, and the upcoming Redshirts. So naturally, he's working on the storyline for this untitled game as well "other things." The video game world is a natural fit for the author as he's an unabashed fan of first person shooters and uses video game themes in a lot of his work (for example, The God Engines is built on a world that is just ripe for an RPG conversion).
Industrial Toys is a new team, but they've dropped a few hints on what their Scalzi collaboration could entail in the latest edition of their online newsletter. First of all, their motto appears to be "mobile games for core gamers," so don't expect any birds or words or fruit. There will also be guns. Hmm, I guess that's it. Helpful bunch, ain't they?
However, it was also revealed Scalzi won't be done dabbling in this world after he creates it. Maybe that means a book, who knows? But this is from the above-mentioned newsletter:
Welcome Hugo-Award-winning science fiction author, John Scalzi. […] Cuz next, he'll be turning his high-powered imagination on the storyline of our first game, and it won't just manifest itself IN the game.