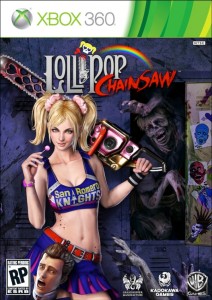 Gimme a W! Gimme a B! What's that spell!?!… You know, that kind of thing doesn't work when what you're trying to spell is just initials.
Anyway, Lollipop Chainsaw and its gory school bus full of gore and guts will be making a stop at this weekend's PAX East expo. The game, which is scheduled for a June 12 release on the PS3 and Xbox 360, will be available in playable form to fulfill all your fantasies of cheerleaders, chainsaws, and doing the splits to decapitate a zombie.
Warner Bros. Interactive Entertainment will also be showcasing playable versions of Mortal Kombat for the portable PlayStation Vita, The Witcher 2: Assassins of Kings for the Xbox 360, The Lord of the Rings Online, and Dungeons & Dragon Online: Menace of the Underdark in booth #424.