Lollipop Chainsaw was definitely the hottest game at this weekend's PAX East expo. Between the lengthy line to play a demo, the awesome foam chainsaws available at the booth, and a cosplaying cheerleader that showed so much skin she was removed from the show floor, everyone was trying to sit in the back of WB's bus. But what about the demo?
Platforms: PS3, Xbox 360 (Version Played)
Publisher: Warner Bros. Games
Developer: Grasshopper Manufacture
Genre: Buffy-Inspired Beat 'Em Up
Release Date: June 12, 2012
ESRB Rating: Mature
The PAX East demo was a short-and-sweet taste of the full game we'll get on June 12 (it was actually the shortest demo on the entire show floor). At only five minutes, it was hard to gauge what the final product will feel like, but if you're familiar with the hack-and-slash gameplay of Bayonetta, Devil May Cry, and God of War, you'll get straight As at San Romero High.
Lollipop Chainsaw stars Juliet Starling, who leads the San Romero Knights cheerleading squad by day and hunts zombies by night. Does that premise sound familiar to anybody else? "Buffy" allusions aside, the game's dialogue has been punched up by James Gunn (writer of Dawn of the Dead and director of Slither) from a concept by Suda 51, promising a game packed with pop culture references. Even "San Romero Knights" is a reference (and a twofer at that), alluding to zombie maestro George Romero and the medieval motorcycle gangs of his film, Knightriders.
In the PAX East demo, players were tasked with rescuing a handful of students and removing the zombie menace from the halls of the school (a menace which included a zombified teacher named Mr. Fitzgibbon, which is a reference to Gunn's previous writing efforts). They did this by first softening them up with light attacks, like punches from Juliet's pom-poms and a few light kicks, to set up the decapitations from her chainsaw. Pounding on the attack buttons unleashes a flurry of kicks, punches, and slashing moves which are perfect for a superpowered cheerleader.
Those cheerleader moves also come in handy with the leapfrog move. Pressing B enables Juliet to jump over the zombie directly in front of her and either turn back and attack or take on a different pack for a kill streak bonus. Buffy pulled off a similar move in the third season premiere of her eponymous show. But I digress.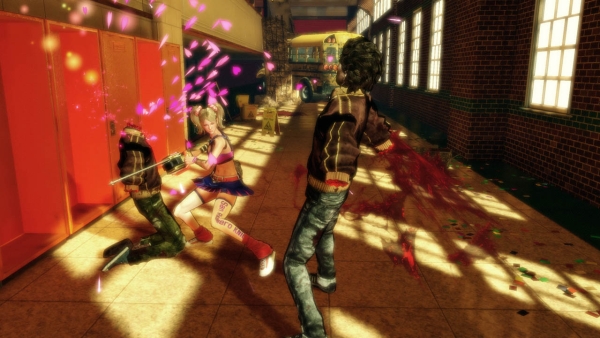 All of these moves combine together for a fast and acrobatic fighter that works, though it doesn't feel particularly original (see the three named games above for just a few examples). Thankfully, that's where the game's art style, which features plenty of sunshine, lollipops, and rainbows, comes in. Everything is bursting with color, from the hearts and stars that explode out of zombies to the very design of San Romero High itself. Lollipop Chainsaw is just soaked in technicolor ridiculousness and it'll make you smile… or a peppy cheerleader will cut you!
Juliet won't just be slicing and dicing her former classmates as some of them need a class protector. Spread throughout the level were several scared students shouting "SOS!" Saving these kids will net Juliet bonuses. According to the Warner Bros. representatives on the bus, slashing at the cornered students will injure them, but that didn't seem to be the case as I happily hacked up a zombie that was standing right next to a student in need of saving.
The demo ended with a fight against Mr. Fitzgibbon. The game tells us that teacher zombies are tougher to kill than the acne-ridden variety, but once Juliet tags him with enough chainsaw hits, she can go in for a finishing move. In this case, it's bisecting her teacher from crotch to forehead. I wonder if Mr. Fitzgibbon was a math teacher?
This tiny taste of Lollipop Chainsaw (I only got a few licks and didn't get anywhere near the center) was enough to make sure June 12 is circled on my calendar in glitter and stickers. I can think of several ample reasons why it captured the gaming community's interest before, but after playing it, I can only think of one…
Gimme an F! Gimme a U! Gimme an N! What's that spell? Fun! Fun! Fun!