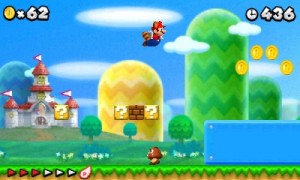 Nintendo has been teasing a new sidescrolling Mario game for the 3DS for more than a year now, and this morning the company finally revealed New Super Mario Bros. 2. The game will be available this August and it'll bring Mario, Luigi, and the popular Super Leaf with it.
Also announced this morning is a Kirby Anniversary Collection for the Wii. The game (which is currently untitled) will contain "a variety of previously released, fan-favorite Kirby games." No release date was revealed, but Nintendo did say it would be available later this year.
"A new Mario game and a big Kirby celebration will help make 2012 an especially great year for Nintendo fans," said Scott Moffitt, Nintendo of America's Executive Vice President of Sales & Marketing. "Whether they're playing at home on Wii or using Nintendo 3DS to have fun on the go, players can look forward to experiencing some of our biggest franchises in exciting ways."
The first four screenshots from New Super Mario Bros. 2 can be found after the break.