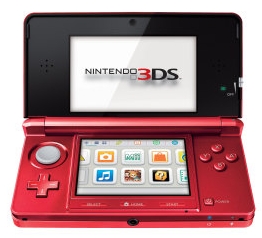 Nintendo has pushed out a system update for the 3DS as part of their weekly Nintendo Download offerings. The update adds the ability to place folders on the handheld's Home Screen as well as streamlines browsing in the 3DS eShop.
And speaking of the 3DS eShop, Nintendo has added a new game to the online store today as well. Titled Block Factory, it's, you guessed it, a puzzle game that features falling blocks. On the DSi Shop, Nintendo has Chuck E. Cheese's Arcade Room, which promises to "recreate the magic of being at Chuck E. Cheese's!" Unless it includes a miniature copy of the Teenage Mutant Ninja Turtles arcade game, I doubt it could recreate my favorite memories of Chuck E. Cheese.
Finally, Nintendo remembered that the Virtual Console still exists on the Wii and has added Super Street Fighter II: The New Challengers to the Wii Shop. Unlike your typical Virtual Console game, Super Street Fighter II adds online multiplayer to the mix.
More information on all of these titles can be found after the break.
Block Factory (3DS eShop) – Create and share puzzles with this predefined falling-block puzzle game. Your goal is to avoid filling the playing field to the top. When a block hits the top, the game is over.
Super Street Fighter II: The New Challengers (Wii Virtual Console) – Battle in elimination tournaments with Ryu's new flaming fireball and Ken's new Dragon Punch. Fight head-to-head locally and compete against other challengers in heated online battles.
Chuck E. Cheese's Arcade Room (DSi Shop) – Many games and prizes await you in Chuck E. Cheese's Arcade Room! Polish off your toy hammer and Smash-a-Munch! Make consecutive shots to go on fire in Basketball Frenzy! Ride like the wind in Jasper's Racing! The object of the game is to have fun, play games, and collect tickets.