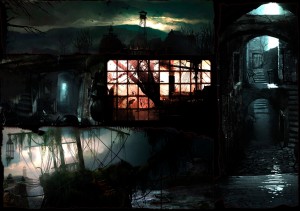 Shinji Mikami, the famed creator of the Resident Evil series, has revealed the first tiny morsels of his next project, Zwei.
Zwei, which is German for "two," has been described as a survival horror game, which seems like a natural fit. The game is in development at Mikami's new studio, Tango Gameworks, and the image to your left represents "a collage of different environments […] to give a feel for the tone and the direction the production is taking."
Development on Zwei is still in the very early stages, but Mikami is confident it'll match the expectations gamers have for his work: "A true 'survival horror' game is one in which the player confronts and overcomes fear. I've found my focus and once again I'm striving for pure survival horror [with Zwei]. I am being very hands-on to see that the quality is there. Rest assured."
Tango Gameworks is a wholly-owned subsidiary of Bethesda, so they'll be publishing the game in the US. However, owing to the early nature of development, Mikami wasn't ready to announce which platforms it'll appear on or when it'll be released.