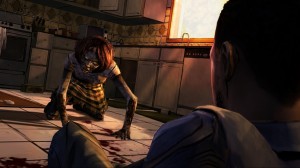 Welcome to this week's massive PlayStation Store update!
First up is The Walking Dead: A New Day, the first episode the Walking Dead episodic game series. PS3 players can buy the first episode today for $4.99 or the Season Pass (which includes all five episodes) for $19.99. Also available today is a trio of PopCap PSN releases (Bejeweled 3, Feeding Frenzy 2: Shipwreck Showdown, and Zuma) and the Hot Shots Golf: Out of Bounds "Complete Collection," which includes all previously released DLC.
Full PS3 games available this week include EA DICE's Battlefield 3, rhythm game Grease Dance, and action RPG The Cursed Crusade.
PS3 owners can also now find another PS2 Classic (Red Faction), two PSone Classics (Darkstalkers 3, Future Cop L.A.P.D.), and a Dragon's Dogma demo on the PlayStation Store.
And if you own a Vita, you can add the Skype app to your handheld for free today.
More information on all of these games can be found after the break. And a complete list of this week's game add-ons can be found at the PlayStation Blog.
PSN Games
Bejeweled 3 ($14.99)
Escape to the biggest, brightest Bejeweled. Discover all-new ways to play the world's number 1 puzzle game!
Feeding Frenzy 2: Shipwreck Showdown ($9.99)
Want a game you can really sink your teeth into? Swim and swerve through underwater worlds and chow down on smaller fish as you chomp your way to ocean supremacy.
The Walking Dead – Episode 1: A New Day ($4.99)
Episode one of a five-part game series set in the same universe as Robert Kirkman's award-winning series. Play as Lee Everett, a convicted criminal, who has been given a second chance at life in a world devastated by the undead.
Zuma ($9.99)
Survive the ancient temples of Zuma, the critically acclaimed action-puzzler from PopCap! Deep in the jungle lie hidden temples bursting with traps and trickery, and it's up to you to uncover their treasures.
Hot Shots Golf: Out of Bounds Complete Collection ($24.99)
Download and play Hot Shots Golf: Out of Bounds with the complete DLC collection bundled together for the first time. Tee off as Kratos from God of War and dominate the links with the Blades of Chaos, or set new grounds with Sackboy through the Golfasaurus-Rex B.C.C. course.
PS3 Full Games
Battlefield 3 ($59.99)
In Battlefield 3, players will step into the role of the elite U.S. Marines. They will experience heart-pounding single player missions and competitive multiplayer action ranging across diverse locations from around the globe.
Grease Dance ($19.99)
This is Grease for the New Generation, inspired by the 50′s and danced by you! Shake out your hair, turn up your style and release your inner rock and roll party queen.
The Cursed Crusade ($19.99)
Set against the backdrop of the Old World, two adventurers—both seasoned warriors—will quest across a Western Europe ablaze with the turmoil of a newly begun Fourth Crusade.
PS2 Classics
Red Faction ($9.99)
Join coal miner Parker and help him take down Mars' oppressive mining corporation and liberate the planet in this classic first person shooter.
PSone Classics
Future Cop L.A.P.D. ($5.99)
In a devastated, gangs have taken over Los Angeles. Armed with the ultimate assault vehicle, the L.A.P.D. must now reclaim the streets!
Darkstalkers 3 ($5.99)
Pummel opponents as your favorite mythological monster in this classic 2D fighting game. Download Darkstalkers 3 today!