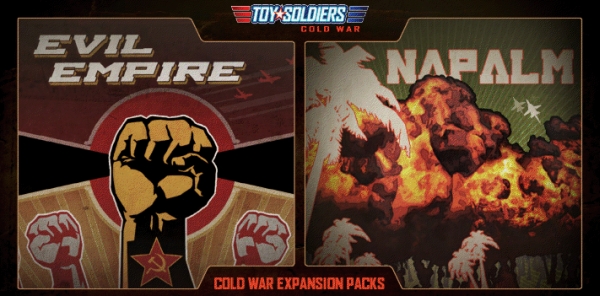 Are you ready to heat up the cold war once more? Signal Studios announced that they've added two expansions for Toy Soldiers: Cold War to the Xbox Live Marketplace today. The expansions, "Evil Empire" and "Napalm," are available to download for 400 Microsoft Points ($5) each.
"We're delighted to have Evil Empire and Napalm going live," said Jason Ilano, Toy Soldiers: Cold War's Game Director at Signal Studios. "As a thank you to our fans, we are releasing a Multiplayer DLC compatibility pack for free. This will give them a chance to join matches hosted by players that have the new content, play it, and decide if it is for them."
Want more information on "Evil Empire" or "Napalm"? Then hit the jump solider!
"Evil Empire" Features
Calling All USSR Forces: Your comrades need your help to crush the capitalist scourge! Control the mighty Russian army in a brand new mini-campaign.
Take the Hit: The new Survival mode, "Trauma", adds the twist of damaging your toy box with every turret you place. Be prepared to bring your A-game, as reckless placement will not save the day.
Back to the Battlefield: Strap on your gear and get your marching orders as you head out to the versus map, "Muddle." Rule the new Survival map, "Ironfisted", which can be attempted solo or with a partner in local or Xbox Live Co-op.

Bosses, Barrages and Vehicles… Oh My: Take down the American army's all new "Super Tank" boss using the new "Orbital Laser" barrage or the new "Super Hormone" helicopter.
In Soviet Russia, Mini-Game Plays You: Tired of capitalist pigs taking your hard-earned money? Strike back in this classic arcade-styled mini-game, "Pop-a-Pig."
Decorate Yourself With Soviet Pride: Don't think you get enough notice for your hard work? Earn new decorations and unlock three new Achievements.
"Napalm" Features
The Heat is On: Roast the opposition as you take control of your favorite U.S. units in a brand new mini-campaign.
Survival Man: You are the army in the new Survival mode, "Commando." Take control of Commando or Ivan and defend your base without the aid of turrets.
Return to the Front: Get back into the fray with the all-new multiplayer map, "Fervor." Defend two toy boxes alone or with a partner in the new survival map, "Double Dealing."
Burn, Boss! Burn: Watch the new USSR "Mi-12 Homer" boss go down in flames as you take charge with the new "Napalm" barrage or the new "Laser Tank."
Get to the Chopper: Leave no man behind! Jump into your U.S. Rescue Helicopter and evacuate POWs in the high-flying mini-game, "Hang Time."
Full Medal Jacket: Show off your accomplishments with pride! Answer the call and unlock three new Achievements, as well as new decorations.