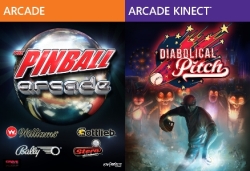 Today's Xbox Live Arcade additions have a theme, can you figure it out?
First up is Diabolical Pitch, a Kinect-powered XBLA game that features a pitcher with a bionic arm trapped in an amusement park full of demons. No, really! It's priced at 800 Microsoft Points ($10) and sounds totally awesome:
An unusual, unique and wacky pitching action game is coming to Kinect and the name of the game is Diabolical Pitch. A former pitcher now outfitted with an incredibly powerful bionic arm finds himself in a run-down, dark, and twisted amusement park. The night gets strange and intense quickly as you must use your pitching skills to survive the game of your life. Charge up your diabolical pitch to wipe out all the enemies crowding towards you. Power-ups give your throwing arm insane abilities that will give you the edge against huge mobs of enemies or even the most fearsome boss. Kinect turns your room into a playing field and your Diabolical Pitch is the main attraction.
Also available this week is Pinball Arcade, which aims to be a platform for additional tables much like Pinball FX. The base game includes four tables and is priced at 800 Microsoft Points ($10):
Real pinball for your Xbox 360! The all-time greatest pinball tables from Williams, Bally, Stern Pinball, and Gottlieb are now together in one game. Every flipper, bumper, sound effect, and display pixel has been painstakingly emulated in astonishing detail. The four table launch collection includes Tales of the Arabian Nights, Ripley's Believe It or Not, Theatre of Magic, and Black Hole.
Did you guess the theme? It's flying metal balls.