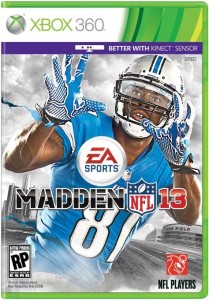 Peyton Hillis was hit hard by the Madden Cover Curse last year. Perhaps harder than any player has ever been hit.***
But look at Calvin Johnson, wide receiver for the Detroit Lions. EA Sports released the official cover of Madden NFL 13 today and he's ready for it. He isn't scared of any curse. After all, "Megatron" stomped Dwayne Bowe, Arian Foster, Rob Gronkowski, Aaron Rodgers, and Cam Newton on his way to winning the fan vote. To see just how ready he is, click the cover to get an enlarged view.
Madden NFL 13 will be available for the PS3, Xbox 360, Vita, and other platforms this August
*** Editor's Note: Statistically, there is no curse. We ran the numbers. We're sure.