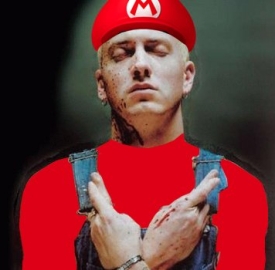 There are three reactions to any rumor…
This rumor is that last one.
GoNintendo is reporting that Eminem recently met with a Sacramento-based marketing agency to create a video for Nintendo's E3 press conference. According to the report, the Real Slim Shady will appear on stage via video to promote a Wii U game titled Acid Ghost.
No one is quite sure what Eminem's connection to Acid Ghost is, but a second GoNintendo report has revealed a bit about the game. Acid Ghost will take place on a cruise ship and players will control the titular poltergeist as he torments the vacationing passengers. Some of The playful ghost will be able to pull a wide variety of pranks such as "pick up random objects, grab people's body parts, draw on the walls with blood, turn on and off lights in rooms, mess with passengers [televisions], radios, and laptops, and mess with their food when they aren't looking."
GoNintendo's tipster stated that Acid Ghost is in development at Kuju Entertainment, but I still have no idea what Eminem has to do with this. Does he love pranks? Is his paleness a hint at a deepseated love for Casper the Friendly Ghost? Did the Jason costume he used to wear give him a hankering to recreate Friday the 13th Part VIII?
I'm holding out hope for all of the above. But I can't wait to find out the truth.
[Image Credit: Games Radar]