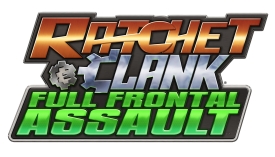 To celebrate the 10th anniversary of the Lombax mechanic Ratchet and his sentient robot sidekick Clank later this year, Insomniac Games are currently retooling three PS2 games from the series for an HD re-release. The Ratchet & Clank Collection (or Ratchet & Clank Trilogy as it is known in PAL territories) will feature, the original Ratchet & Clank, as well as its two sequels, Ratchet & Clank: Going Commando and Ratchet & Clank: Up Your Arsenal.
In addition to all this though, Insomniac have heeded their fans' wishes and created a brand new adventure featuring the galaxy-saving duo, Ratchet & Clank: Full Frontal Assault, exclusive to the PlayStation Network.
"Ratchet & Clank: Full Frontal Assault is a fun-sized Ratchet adventure which will be available for download exclusively on the PlayStation Store. We've returned to the series' classic feel, camera, controls and weapons, while innovating and giving you a whole new way to play," said Ted Price, CEO of Insomniac Games.
Since Insomniac likes to rename everything for the European market, the game will be known there as the rather more trite and non-suggestive Ratchet & Clank: Q-Force. While discussing the announcement, Insomniac Community Manager James Stevenson stated that the new title would be "closer to Quest for Booty than A Crack in Time," and also that there would be a region-free physical edition release in Europe as well as the digital download.
[Source: PlayStation Blog]