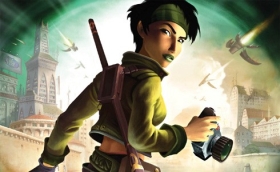 Despite a whole decade since Ubisoft's original appeared, it seems that Beyond Good & Evil 2 will prove naysayers wrong by climbing into the cold light of day. However, unlike the recent HD re-release on Xbox Live Arcade and the Playstation Network, the franchise will be seeking a home on the next generation of consoles, if we are to believe Michel Ancel, the original game's creator. He has (once again) been quoted as saying the game is in "the active creation stage," explaining further:
"I can say that it's a very ambitious game and we need some tech to achieve that ambition. We focus on the game. We create it first, then we'll see what can run it. We don't say 2013 because we don't know when it will come. We're working to create a great game and it needs more tech."
However, it has been four years since Ubisoft debuted a teaser trailer for the sequel at their short-lived Ubidays conference in 2008. A short time before that, Ancel himself stated at the Video Games Live show in Paris that BG&E2 had been in development for 18 months, suggesting that the project was perhaps put on hiatus, only to be revived by the original's HD re-release in 2011, but retooled for the next generation. Could it be they are gearing it up for release on Nintendo's Wii U (or perhaps the PS4 or Xbox 720)? The Wii U's tablet controller would certainly be a good match with Jade's camera.
[Source: Destructoid]