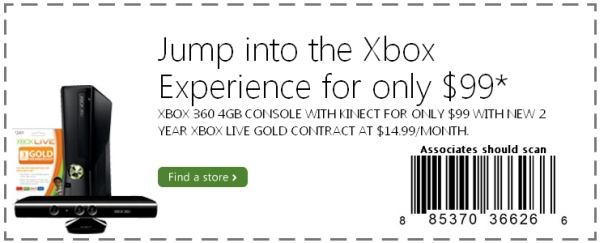 It appears the rumors are true. Starting today, Microsoft has begun selling a subscription-subsidized Xbox 360 bundle for $99. Currently available only at the 21 Microsoft Store locations in the U.S., potential buyers are required to sign up for a two-year contract (at $14.99 a month) to Xbox Live Gold as part of the purchase agreement.
But after you plunk down your initial $99, you'll receive a brand new 4GB Xbox 360 system and a Kinect sensor. It's actually not a bad deal, but few people will be able to take advantage of it as most of the country lives hundreds of miles from the nearest Microsoft Store.
But as a predictor of things to come in the console space, this kind of subsidized system sale could make the "future generation" console wars very interesting.