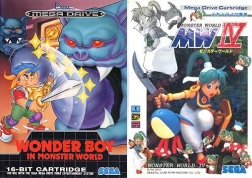 Sega's Monster World franchise takes over this week's Nintendo Download as two games from the series (that were originally released on the Genesis) were added to the Virtual Console today. For Monster World IV, this is the first time it's been available outside Japan.
Also in this week's update there's a DSiWare shooter and yet another rendition of Sudoku for the 3DS:
Sudoku by Nikoli (3DS eShop) – Enjoy 50 high-quality sudoku puzzles created by Nikoli, who gave the world-famous puzzle its name.
Paul's Shooting Adventure 2 (DSiWare) – The player controls Paul and his brother, twins of a super hero family who were born with innate super powers. The two brothers have the ability to take flight and attack with powerful projectile energy.
Wonder Boy in Monster Land (Wii Virtual Console) – The once-beautiful kingdom of Wonder Land has been thrown into chaos by a ferocious, fire-breathing dragon called MEKA dragon. The dragon and his monstrous henchmen conquer the peaceful world, turning it into Monster Land.
Monster World IV (Wii Virtual Console) – For the first time outside of Japan, experience the final chapter in the classic Monster World series! One day, a young, green-haired girl names Asha, hears spirits calling out for help. Upon hearing the spirits, she leaves her village and sets forth on a grand adventure into Monster World.