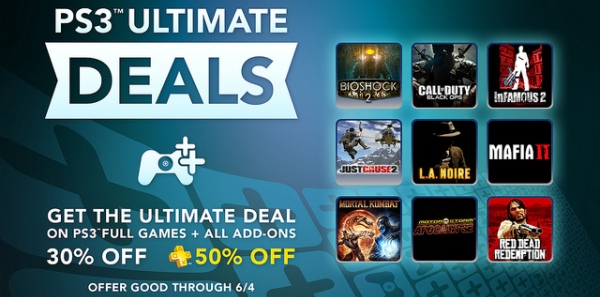 Sony has added a new featured section to their PS3 Full Games store: Ultimate Editions!
Each Ultimate Edition is comprised of the original game and any available downloadable content, ensuring that gamers who use the PSN always have the complete game. To celebrate their new offering, Sony is running a weeklong sale on all nine Ultimate Editions. From now until June 4, all the Ultimate Editions will be 30% off with PS Plus subscribers getting a 50% discount.
Hit the jump to view the full list of PS3 Ultimate Editions.
Red Dead Redemption
Sale Price: $27.99 | $19.59 For PlayStation Plus Members
Includes: Legends and Killers, Liars and Cheats, and Undead Nightmare
InFamous 2
Sale Price: $33.99 | $23.79 For PlayStation Plus Members
BioShock 2
Sale Price: $27.99 | $19.59 For PlayStation Plus Members
Includes: Exclusive Character Pack, Minerva's Den, The Protector Trials, Rapture Metro, and Sinclair Solutions
MotorStorm Apocalypse
Sale Price: $50.49 | $35.34 For PlayStation Plus Members
Call of Duty: Black Ops
Sale Price: $66.49 | $46.54 For PlayStation Plus Members
Includes: First Strike, Escalation, Annihilation and Rezurrection Packs
L.A. Noire
Sale Price: $27.99 | $19.59 For PlayStation Plus Members
Includes: All "Complete Edition" Content
Mafia II
Sale Price: $20.99 | $14.69 For PlayStation Plus Members
Includes: Betrayal of Jimmy, Greaser Pack, Jimmy's Vendetta, Joe's Adventure, Renegade Pack, Vegas Pack and, Hero Pack
Just Cause 2
Sale Price: $20.99 | $14.69 For PlayStation Plus Members
Mortal Kombat
Sale Price: $34.99 | $24.49 For PlayStation Plus Members
Includes: Warrior Bundle and Klassic Skins Pack 1