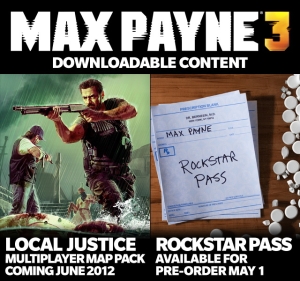 Today, Rockstar announced a bunch of multiplayer DLC for Max Payne 3 that will be made available in the coming months, and a "Rockstar Pass" that can be preordered now through Xbox Live or the PlayStation Network.
The first available DLC will be the The Local Justice Map Pack, which is coming in June, and will include the Police Precinct map for Gang Wars, Deathmatch, Team Deathmatch and Payne Killer modes. It will also have two additional maps for Deathmatch, Team Deathmatch and Payne Killer, new avatar items, multiplayer challenges, and more.
Packs that will be available this summer, but whose dates have yet to be announced, are the Disorganized Crime Map Pack, Deathmatch Made In Heaven Mode Pack, Hostage Negotiation Map Pack, and the New York Minute Co-Op Pack.
The Painful Memories Map Pack and Trickle Down Economics Map Pack will be available in the Fall.
The Rockstar Pass will set you back 2400 Microsoft Points or $29.99 on the PlayStation Network or PC, and will get you access to all available content at a 35% discount compared to buying the packs separately.
For more information on all the DLC options, check out Rockstar's DLC page on the Max Payne 3 official site.