Scarygirl is a project by Australian artist Nathan Jurevicius. Ambitious and haunting, the graphic novel follows the charming but strange orphaned girl raised by a giant octopus. The graphic novel is full of colorful, trippy illustrations – everything is very dreamlike yet whimsical. One of the most beautiful things about Scarygirl is the complete lack of any dialog whatsoever – speech bubbles have images, and thoughts and feelings are expressed through facial expressions and body language (as much as this can be done in a graphic novel). But everything about it just works – which is sadly not true for the video game adaptation recently released on the PlayStation Network and Xbox Live Arcade.
The graphic novel begins with poor little Scarygirl, abandoned and alone. She is quickly adopted by a giant octopus named Blister. She begins having strange dreams about the mysterious Dr. Maybe, and goes with her neighbor Bunniguru to try to find him. To do so, they must travel through the dangerous city, where peril awaits. Scarygirl is faced with love and loyalty, as well as betrayal and heartache. But her strength and faith prevail.
As generic as it may sound when described in vague terms, the story is drawn masterfully, full of powerful emotion. Jurevicius' tale is accurately described as a "composition of heartfelt stories and reinterpreted folklore from our shared cultural memory." His unique artwork creates an amalgam of recollection and stirs up deep emotions – and does all of this without uttering a single word. It's beautiful and succinct, with each page creating more immersion with Scarygirl and her plight.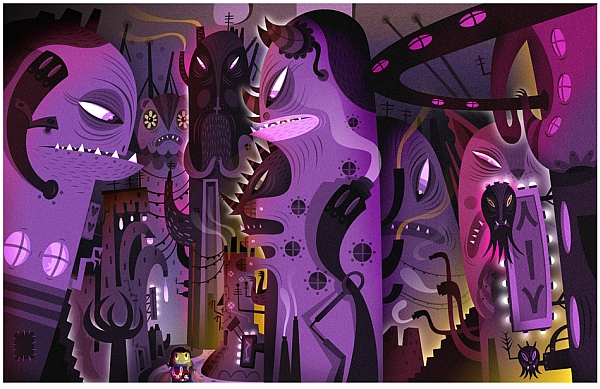 The game, released on the PSN and XBLA this past January, couldn't be more different from the book. It has captured the art style, but the characters don't have the same kind of depth that they do in the graphic novel. There's not much of a foundation here, either – you move right into the game without the same kind of magic present in the book. There are things to collect and buy, enemies to kill, and platforming to conquer and/or be frustrated by – basically, all of the staples of a platformer.
But it's missing the soul that was so evident in the drawn form. The story is weakened by the need to constantly add in enemies and other strife – because without these aspects of the game, there's not much to do. TikGames, the developer, could have opted for more puzzles and gameplay based around the story, but they went with the easy way out: boss battles and platforming. While it's a franchise that seems like it would lend itself well to games and movies, there's something lacking here. Perhaps it's the narrator, or the fact that Scarygirl doesn't really do any fighting in the novel. Something about this translation has cheapened the original and made this feel like nothing more than a sad imitation.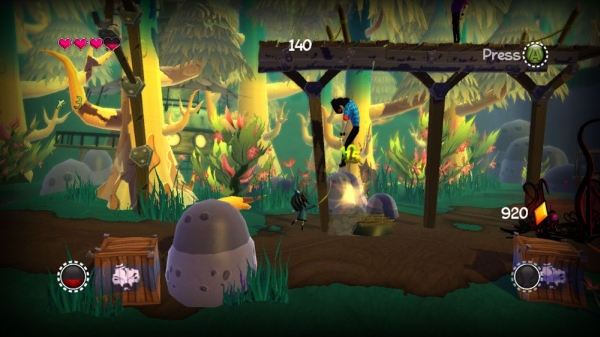 Fans will be happy to know that there is a fun game on the Scarygirl website. This free-to-play browser game retains much of the enchanted qualities, following Scarygirl on her journey to find Dr. Maybe. The animations here are much smoother, and the opening cutscene alone gave me chills. It's a shame that none of this was carried over into the console version.
There is currently an animated feature film in the works. Producer Sophie Byrne is an Oscar award winner best known for her work on Gorillaz Phase One: Celebrity Take Down. Promisingly, she has optioned Scarygirl, a story that seems safe in her talented hands. After seeing the animations in the browser game, I'm confident that the story can be told with the right amount of care and attention to detail.
Scarygirl may just be a strange, quirky little graphic novel, but there's a magic in it that draws the reader in and brings them a dreamy solace. None of this magic has translated into the console game, and while it could be fun on its own without prior knowledge of the story, readers of the graphic novel will be more than a little disappointed by it. I highly recommend picking up the book, because Scargirl is a beloved character you'll adore. Your money would be better spent this way than on the game – and, if you really do have a hankering for playing a game as the cute little protagonist, the browser version will give you a much better experience.