In a world where nearly every medium is overwhelmed by the undead, yet another zombie game seems gratuitous. Is there really anything more to say about the living dead? Telltale seems to think so. And, from the first episode of their new game series based on Robert Kirkman's massively successful comic, The Walking Dead, I can't help but agree.
Platforms: PC (Version Played), PS3, Xbox 360
Publisher: Telltale Games
Developer: Telltale Games
Genre: Surprisingly Functional Comic Book Adaptation Adventure
Release Date: April 24, 2012 (PC, PS3), April 27, 2012 (Xbox 360)
ESRB Rating: Mature

"A New Day," the first installment of a five episode game series, introduces players to the main character, Lee. Our hero has a questionable past as we meet him in the back of a police car that's taking him to prison. Making dialog choices, the player shapes Lee's personality, deciding if he is polite, abrupt, honest, or deceptive. These choices not only affect how a line is read, but how other players see and react to Lee.
The story takes him through four main areas, which are broken into seven chapters, where the limits of adventure game mechanics are tested. A genre that has been defined by its slow thoughtful choices and exploration moves into areas that require fast reflexes and the ability to make difficult decisions quickly. Those decisions have major ramifications for the way the game plays out, and how future episodes will be shaped. Think of it as Maniac Mansion meets Heavy Rain meets Mass Effect. Traditional adventure gaming with quick time events and decisions that span multiple games. It is, in other words, a concept whose time has come.
The game brings the emotional punch that a story set in Robert Kirkman's comic book world deserves. Lee must not only deal with the general horrors around him, but with very personal tragedies. And while all of this is handled extremely well, it makes one wonder how Telltale will keep up the poignancy of this first episode throughout the whole season.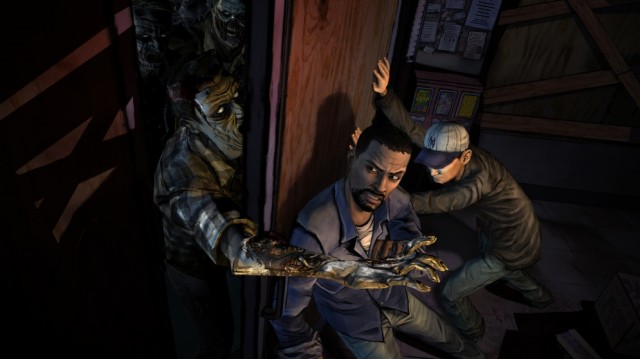 The choices the player makes are appropriately disturbing for the situations that could conceivably surround a zombie apocalypse. The people that Lee meets are sufficiently complex to make those choices both difficult and terrifying. Telltale has successfully managed to avoid stereotypes and two dimensional characters so that the story is interesting, and the consequences are dire. More than once the plot twisted in a way that I didn't see coming, which gave the story that sharp tang of reality that so many games lack.
The only real downside was the presence of a few graphical glitches. When playing on the PC there were several "spikes" on characters (those oddly misplaced vertices that make a person look like they have a long triangle pointing out of them) throughout the game. Also there was quite a bit of flickering in the scenery on a rig that happily runs Battlefield 3 and The Witcher 2 at high settings.
Since these episodes happen in parallel to the comics (not the television show), players familiar with Kirkman's stories will be pleased to see familiar places and faces. In other words, Telltale has managed to find a way to bring you safely into the same world as the comics, make you comfortable with friendly faces, and do it all without rehashing the same stories over again. If they can keep up the level of quality throughout the series, it will be a very worthwhile companion to the existing fiction of The Walking Dead.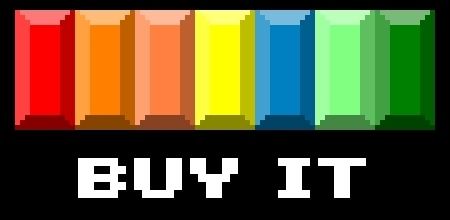 Review Disclosure: A review copy of The Walking Dead was provided by Telltale Games for the purposes of this review.