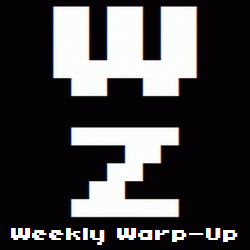 No, that's not a typo. Welcome to the Weekly Warp-Up, your weekly wrap-up of the biggest and the best articles posted at Warp Zoned this week…
After all the teasing and all the rumors, Activision officially announced Call of Duty: Black Ops II this week. The details were slow to trickle out, but we did get an intense reveal trailer, confirmation that Zombies Mode will return, and an in-depth analysis of the reveal trailer courtesy of GameTrailers.
It was also a big week for Sony's God of War: Ascension. The prequel dueled Black Ops II for the hearts and minds of gamers this week with confirmation that the it'll include a multiplayer mode (a first for the series), new story and gameplay details, and a full-fledged developer discussion about both.
Aside from those major reveals, we set out to look back as well as forward with the latest edition of Warpback, or What We Played in April 2012. But who am I kidding? The video game industry is all about moving forward, and we did that with our look at The Games of May 2012.
And speaking of "The Games of May 2012," we put the biggest game of the next four weeks through its pace last month and we're finally ready to report on our Diablo III Beta Impressions. Looking a little further out to the next great RPG, we also went hands-on with Penny Arcade's On the Rain-Slick Precipice of Darkness 3.
You want more? Well hit the jump for more of the week that was.
The Week in Reviews…
The Week in New Games…
Amazing Paperboy Delivers…
It's A Secret To Everybody…
And Finally…
It's not a movie, but a Halo 4 live action web series will debut this year.